If you are someone who is looking to take multiple courses and specializations on Coursera, I would highly recommend that you consider taking Coursera Plus subscription. This will not only save you money but also opens doors to over 90% of Coursera's courses, specializations, short courses and professional certificate programs.
The amazing thing is, you won't be charged anything extra than the Monthly or Yearly Subscription fee. Learn from 170+ leading universities and companies, take as many courses or specialization you wish, over 3000 programs are available at no extra price beyond subscription fee.
I have been using Coursera since 2016, and have always loved the platform. At the time there was no concept of Coursera Plus. Being someone who has used the platform, so I already find Coursera Plus very powerful! Especially the kind of courses available with it. Down below, I have shared some of the best courses and Certificate programs that learners can take. To view all the popular participating program please go here.
Best Coursera Plus Courses and Certificates
All Coursera programs are best to be honest, however, the ones that I personally like and are included in plus subscription are as follows:
Google IT Support Professional Certificate
Applied Data Since with Python – University of Michigan
Graphic Design – California Institute of the Arts
Learning How to Learn: Powerful mental tools to help you master tough subjects – McMaster University
IT Project Management – Indian School of Business
Introduction to Cybersecurity & Risk Management Specialization – University of California, Irvine
Java Programming and Software Engineering Fundamentals Specialization – Duke University
Introduction to Programming with Python and Java Specialization – University of Pennsylvania
Web Design for Everybody: Basics of Web Development & Coding Specialization – University of Michigan
Full Stack Web Development with Angular Specialization – The Hongkong University of Science and Technology
System Administration and IT Infrastructure Services
How to check which course is included in Coursera Plus subscription?
This is very easy to identify, simply look for "Included with Coursera Plus" just below Enroll button. This is what it looks like: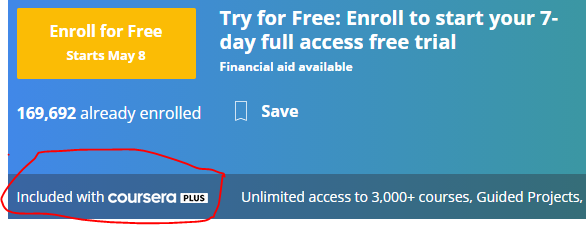 Another things that you can do, just go to Coursera Plus Homepage, type what you are looking for in the search box, and hit search icon. On the new page you will see the content included in Coursera Plus subscription. Almost 90% of the Coursera programs are available through the plus subscription. So do go ahead and try it.
Coursera Plus Subscription Cost
The cost of the plus subscription varies Country to Country. If you take yearly subscription in United States, it will cost you $399/year. Whereas the monthly subscription is $59/month.
And if you talk about India, the cost of Coursera Plus is ₹29,476/year. I could not find the monthly subscription cost for India. If you calculate after currency conversion, it will be around ₹3500/month(approximately).
To avail the 7 days of free trial, please go here.
If you have any questions, please feel free to reach out through Contact page.
Cheers