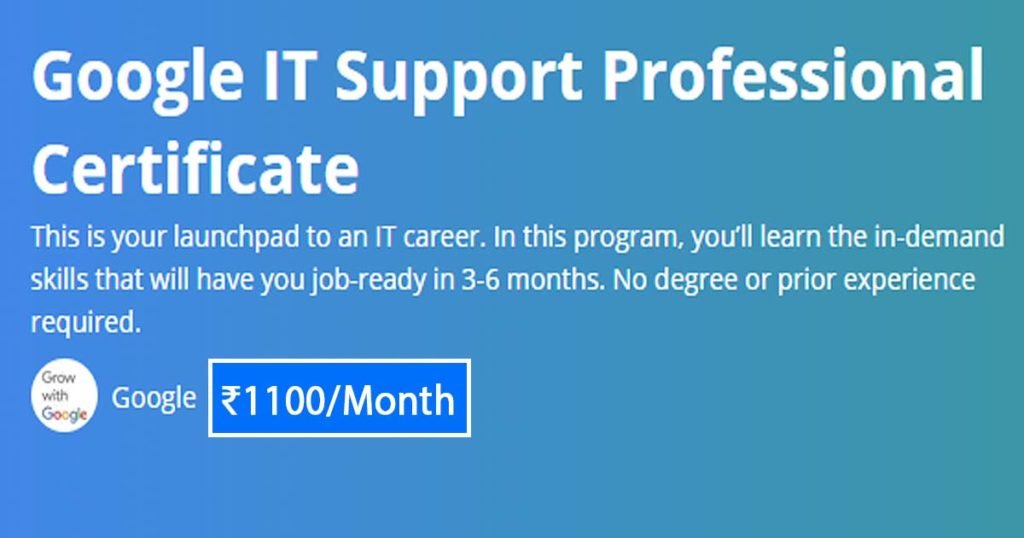 Hey everyone, if you are from India, I have a great news for you. Coursera has reduced the price of its Google IT support professional certificate program to just $15/month.
And, If you calculate the price in local currency, all you will pay is ₹1100/month the certificate.
In 2019, the $200 billion Indian IT Industry created over 200,000 jobs. And, is expected to grow by 7.7 percent in 2020.
To help learners in India take advantage of the great career opportunities, Coursera is slashing the prices of:
Google IT Support Professional Certificate program – View here
Google IT Automation with Python Professional Certificate program – View here
These Professional Certificate programs provide world-class training to help learners learn in-demand IT skills that can launch or advance their careers in IT.
I highly recommend my readers to consider them when they are available at reduced rate.
More about Google IT Support Cert Program
It is a 5-course certificate program, which will prepare learners for an entry-level job in IT support through an innovative curriculum developed by Google.
Learners will gain the most important skills and hands-on experience needed to prepare for an entry-level role in IT Support in 3-6 months.
The best part is, you require no prior knowledge or a degree to take this program. Anyone can enroll in it and start learning.
The program is 100% online, after completion, learners will gain theses skills: Debugging, Encryption Algorithms and Techniques, Customer Service, Network Protocols, Cloud Computing, Binary Code, Customer Support, Linux, Troubleshooting, Domain Name System (DNS), Ipv4, Network Model
As of 14th of October 2020, this program has over 427,442 learners already enrolled from all over the world. And, the average rating of the program is 4.7/5.
Courses in Google IT support Cert Program
The following a list of 5 courses in the program:
Technical Support Fundamentals
The Bits and Bytes of Computer Networking
Operating Systems and You: Becoming a Power User
System Administration and IT Infrastructure Services
IT Security: Defense against the digital dark arts
I highly recommend taking the courses in the order they are listed, as the content builds on information from previous lessons. If you are already comfortable with a particular course from the list, you can sure skip that.
So, do leverage this opportunity and learn the most in-demand IT skills to become job ready in 3-6 months.
By paying just ₹1100/month, you get a Coursera Google Certification that can be shared with the employers. Resumes, and on your LinkedIn Profile.
Final Thoughts
The Indian IT industry is creating so many jobs, and will grow by 7.7% this year. With a certificate from Google in most in-demand IT Skills, you make your case stronger when it comes to hiring for the role.
Therefore, if you are looking for a job in IT sector, consider taking this program when it is available at just ₹1100/month.
If you have any questions, please feel free to reach out to me via email ([email protected]) or Twitter
Cheers