If you are looking for the best premium WordPress theme for your website, consider looking at GeneratePress Premium(GP Premium). It is available at just $39/year with Black Friday Deal and, if you are looking for the lifetime license, you only pay $209 as one time payment.
GeneratePress is one of the lightest and the fastest loading WordPress themes ever built. It is also one of the most used premium WordPress Themes with 70,000+ happy clients.
To avail the black friday discount, when you are on the GeneratePress Premium page, scroll down, and you will see the following banner, just choose the plan you want and checkout.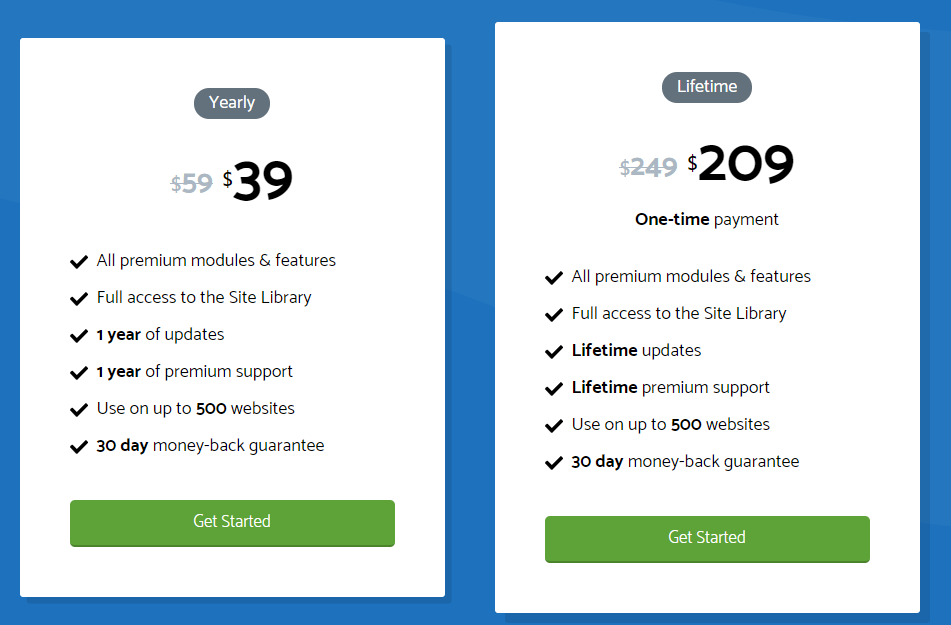 In this article, I am going to share the features that makes this multipurpose premium WordPress theme a must for anyone who is looking to upgrade from a free WP theme to a Premium one.
First and foremost, let me clear this to you beforehand that I am not using GeneratePress Premium for this website at the moment. The one I am using is Astra Pro which is equally a great WordPress theme. But, for my other websites, I do use GeneratePress Premium and just love it.
Features that make GeneratePress Premium the best theme
The following is a list of features that make GeneratePress Premium the best theme for a WordPress Website or blog:
Importable demo websites to quickly start your project
With the premium theme, you get access to the site library of GeneratePress. From the library you can import demo sites to kickstart your next project. This will save a lot of your time, especially if you are not an experienced WordPress website owner.
Whether you are looking for a blog, a website to sell your services or anything else, you will find all kinds of demo websites serving your needs in the library.
All you have to do is, just download the demo website, change the content inside and you are done.
To view the Site Library, just go here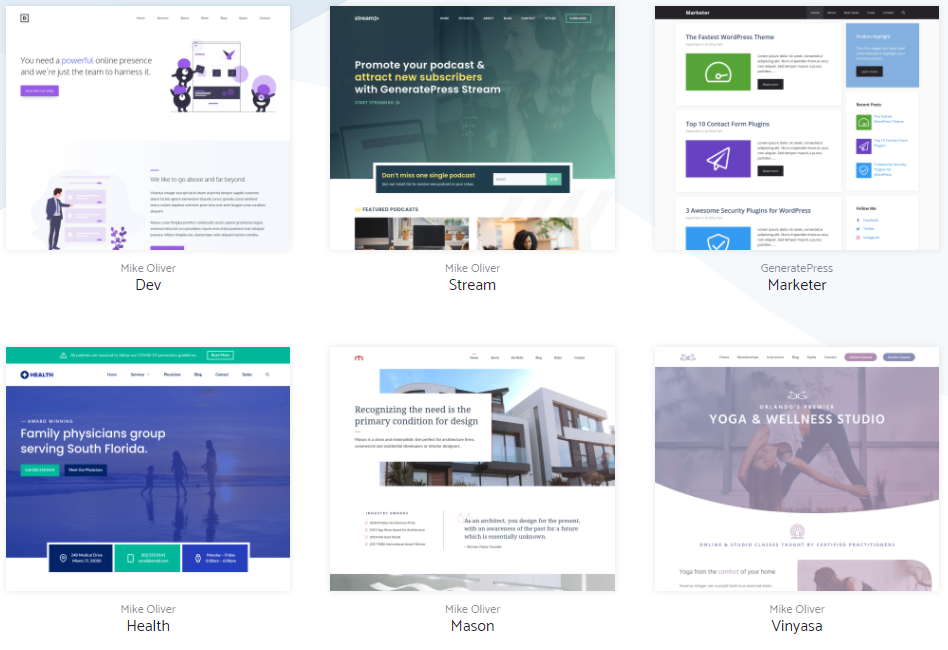 Unlimited Websites with Single License
With a Single license, you can build unlimited number of WordPress websites. This is the feature that takes GeneratePress Premium way ahead than the competitors.
Most of the WordPress theme developers only offer Single website license, for multiple licensing their prices shoot up. But, GP Premium isn't such developer, you can build unlimited websites with the same license.
I have used the same license for over 10 websites, never had any problems whatsoever. This saved me a lot of money overtime. As, I didn't have to bother about a premium theme each time I started a new project for myself, my friends and my clients.
A premium WordPress Theme is typically $49 for a single website license. At this rate, I would have paid $500 for 10 themes till date. But, all thanks to GeneratePress Premium, I only Paid $49.95 once for the theme, and I can build as many websites as I want.
Isn't it great?
The best part, you get 1 year of support and updates with your license. Even after the license expires, you still get to use the theme for unlimited websites and they will rum as smooth as before.
However, you won't get the new updates to the features. This is why I highly recommend that you renew their license every year. And, guess what, if you decide to renew the license, you will get 40% discount on renewal.
WooCommerce Ready
GeneratePress themes are WooCommerce ready, if you have products to sell online, you can easily set up your online shop with them. And, with premium theme you can add more color, typography and layout options to your WooCommerce store with an ease.
There are so many online shops using WooCommerce on GP Premium. I will make a quick tutorial for you shortly covering the whole process if you are looking to set up an online shop.
Here you can subscribe to my youtube channel to get the notification as and when that video goes live: FixingTinyTediousThings
Here's an image from the Site Library that shows an eCommerce demo website:
Other Great Features of GeneratePress Premium
A full control over the Spacing of elements as you want. You can shrink or expand elements such as main body, sidebars, Footer etc
Over 60 color options, to give you control of your site colors
Complete control over your site text with 70+ typography options
Get Elements such as Dynamic page heros, Advanced hook system and Custom theme layouts
You also have the options to choose Menus with Menu Plus Modules. Get Sticky navigation, off canvas navigation, mobile header and more
A mini page builder with in the Section that can break out of the content area with Sections
With GP Premium, you can also add background images and options throughout your site elements
Get rid of the free theme Copyright branding, and create your own message
For blogging, you get featured image controls, columns & masonry, infinite scroll & more
For any reason, If you are not happy, you get 30 day money back guarantee.
If you have any questions, please feel free to Contact Me.